Reading Time:
2
minutes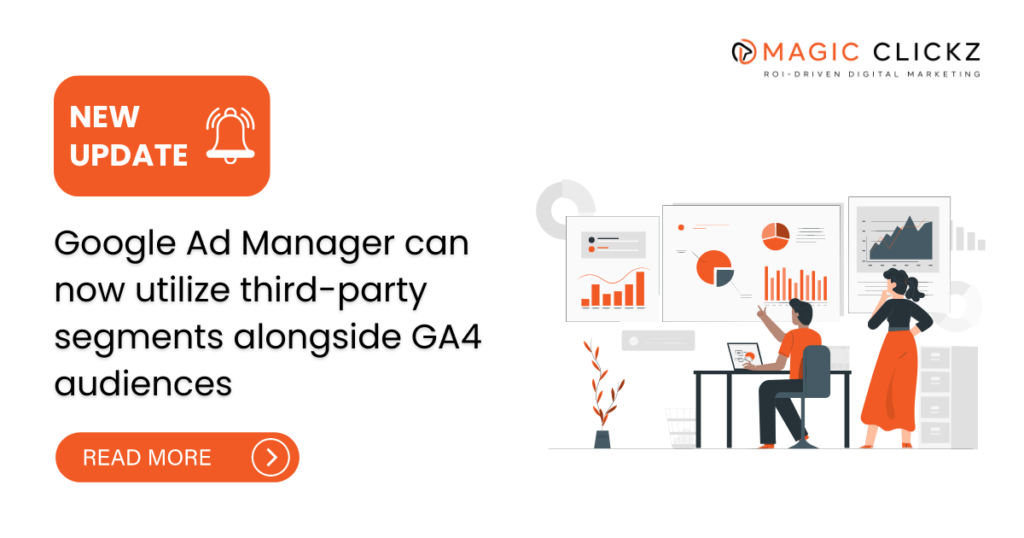 Digital Marketers now know more about their customers and how well their Paid Advertising campaigns are doing than ever before.
Google Analytics 4 allows marketers to use third-party groups of people in Google Ad Manager.
By accepting a third-party group (cookies that match the characteristics of your website visitors, purchased from an external data provider), marketers can aim their ads at that group, make reports, and predict future results.
At the same time, marketers can also use these groups as they are to target their ads, or they can mix this information with other groups of people to do further studies.
What does it mean for PPC Marketers?
This extra information gives important ideas to PPC Marketers about their customers and how well their campaigns are working to reach them.
It's really important for advertisers to know their customers well. When they have this knowledge, they can use data to make smart choices about whom to target. Also, they can create content that interests their customers, leading to more sales and better returns on their investments.
To use GA4 audiences in Ad Manager, just follow these easy steps:
Connect your Analytics account to Google Ad Manager.
Turn on Google signals.
Allow Ads personalization in the link settings.
After that, the GA4 audiences will be sent to Ad Manager automatically.
You can learn more by reading Google's guide called 'Sharing Audiences in Google Analytics'
If you have any questions or worries about the upcoming changes for GA4 audiences, don't hesitate to ask by leaving a comment below.
We really care about what you think and want to hear from you.
Tell us about your business, and our team of PPC Ads Experts will help you grow it by creating strong strategies.
Besides that, we also offer important services like Social Media Marketing, Instagram Advertising, Website Design, Graphic Design, and SEO Services, all meant to make your business even more successful.